Bandhavgarh Tiger Reserve
15.11-18.11.2007
page1 / page2
After work, work and again work Michael took some free days which we wanted to spend far away from Mumbai, somewhere in the nature. We decided to go to one of the tiger reserve, after some internet research we choosed Bandhavgarh National Park in Madhya Pradesh. This park is about 18 hours by train from Mumbai and another 3 hours by car on not so good roads. Bandhavgarh Park is around 450 sq.km and it has some 40 tigers plus other wildlife like sambar deer, spotted deer, peacocks, monkeys, leopards. To see this animals you go on safari in open jeeps in the early morning before dawn and in the late afternoon to dusk. A lot can be seen from the car but if tiger is spotted somewhere in the bush away from the street, you can climb on an elephants and get near to the cats.
Our accomodation was in a pretty new and exclusive resort with just five treehouses exquisitly designed and furnished, build around a huge trees with its big privat veranda overlooking the jungle. We were the only guests there and had the meals together with the owner and our nature guide, so it felt like a very private place.
The weather was really plessant, around 25°C during the day, and pretty cool in the morning and evening with maybe 10 to 12°C. After buzzing Mumbai - just sitting, watching the stars and enjoying the silence, real paradise!
But we were actually very active spending nearly eight hours a day roaming on the bone-shattering and dusty roads of the park in search of the tiger and all the other creatures. The first day was unlucky, we saw none of the big cats. On the second day we were rewarded with the sight of four different tigers.
| | | | |
| --- | --- | --- | --- |
| | | | Platform of a small railway station somewhere - anywhere |
| | 2AC sleeper - the way to go on long journeys with Indian Railways. Two berth above, airconditioned, food delivered to the seat. | | |
| | The way from our treehouse to the restaurant | | |
| | | | Our treehouse |
| | | | |
| | | | |
| | The room from the door and through the veranda | | ...and from the other direction |
| | | | |
| | | | Relaxing on the veranda |
| | The washbasin support is made of a tree trunk ... the termites will like it | | |
| | The restaurant is build around a huge tree... | | |
| | | | ...with the bar in the middle. |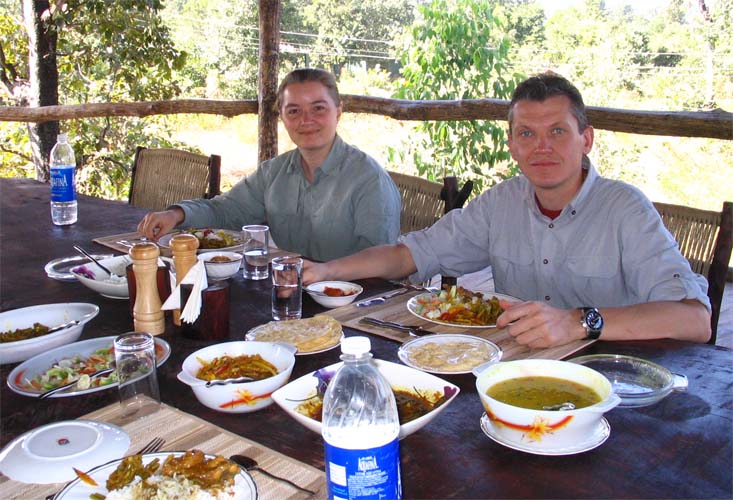 between the safaris - lunch in the resort
| | | | |
| --- | --- | --- | --- |
| | | | |
| | fog is rising over the hills in the morning | | Bandhavgarh park after sunrise |
| | | | |
| | First sight of a Tiger ... the footprint | | A Peacock, Indias National Bird |
| | | | |
| | The roads in the park | | If a tiger is spotted, word spreads around the guides. The cars gather around the area. |
| | | | The big cat - getting up to move on. |
| | The cat is hidden in the bush. To get near you take the elephant. | | |
| | | | |
| | A close look with the long lens. | | And the food for the Tiger - Sambar |
| | | | |
| | A Sambar deer and Bambi | | And these guys you can see a lot. |
page1 / page2